Purrfect Pets Slots
Coming out soon, Purrfect Pets is a 5 reel animated slot with 25 pay lines. The theme of this charming game, is to display cute and fuzzy cats and dogs across the scene in a virtual backyard. In addition the lovely and warm varieties of cats and dogs, other symbols include food bowls, collars, and bags of food.
There are exciting and lucrative bonus rounds in Purrfect Pets. Three of the scattered dog symbols will reward you with 10 free spins with winning combinations being doubled. And at the end of each winning spin, you can randomly play the Doggy Collars, the Wild Cat, or the Random Riches Feature. Developed by Real Time Gaming, Purrfect Pets can be played as a low as a penny, and it comes fully optimized for desktops and mobile devices.
Known for excellence in the online casino industry, Real Time Gaming is also the inspiration and the power behind other new games, Popinata and Secret Symbol Slots. Real Time Gaming, is also working on the upcoming release and wildly successful sequel, Cash Bandits 2 Slots, and many more slot games.
Everyone Was Kung Fu Fighting…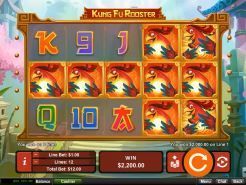 ...with Kung Fu Rooster Slots. When it comes to Asian themed games, they continue to hit their mark with Kung Fu Rosters, a wondrous, animated five reel slot that focuses on the serious business of martial arts. Real Time Gaming gets the credit for this marital arts extravaganza.
Instead of fighting men and women trained in the ancient fighting arts, animals, especially the rooster take their shots and karate chops. There is even the wise, sage in the form of a monkey. To help put your mind at ease, Kung Fu Rooster features a soothing soundtrack. There are big time free spins where your toughness and discipline will be called into question. In fact, you can get up to 25 free spins. And while in free spins mode, keep an eye out for the fire claw multiplier which increases with each passing free spin. Kung Fu Rooster lets you place your bets on your own or you can set them up through auto play mode.
There is no progressive jackpot in Kung Fu Rooster, but you can win quite nicely with enough scatter symbols that fall along with the wilds. This game comes fully optimized for both desktop and smart device players to enjoy anywhere and at anytime.
One Busy Beaver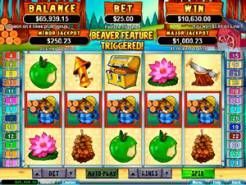 When it comes to hard beaver work, keep a look out for Builder Beaver Slots where the beaver is hard at work, seeing to the wood chopping and other important construction. Real Time Gaming gets the nod for this entertaining and building blocks, five reel slot game.
It goes without saying that the working beaver is the game's wild symbol. A single one of these will double winning combinations. Getting all five will bolster your winnings all the way to 10,000 coins. In fact, there are several high paying slots, including the female beaver and the log cabin. Take the busy beaver into overtime with the wood chucking free spins round. In the free spins round, you are granted 10 free spins with your wins being doubled.
Builder Beaver Slots also features the beaver feature, a higher set of free spins where you play with 12 free spins, with wins being tripled. Builder Beaver has a progressive jackpot that can be won at the end of any spin. Builder Beaver Slots lets you place bets by yourself or through auto play mode. It also comes fully optimized for today's smart phones and tablets.
Some Serious Bull With Basketbull Slots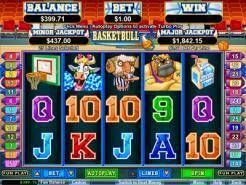 Real Time Gaming triumphantly enters the world of sports, thanks to Basketbull Slots, a wildly entertaining, five reel game where the bulls take center stage as both the players, the officials, the coaches, the cheerleaders, and even the screaming fans. Real Time Gaming, dares you to take the big shot throughout this five reel game with 25 pay lines where the full court press is alive and well. The basket bull players is fittingly the wild symbol which will replace the other icons for big time winning combinations.
Your free throw skills will also be put to the test. The bonus round is all about making as many free throws as possible. In the bonus round, you can earn as many as 96 free spins with your wins being tripled. Also in free spins, you have the chance to sink the biggest shot of your life and win the massive jackpot.
Basketbull Slots also has a worthy, second tier jackpot that has 2,500 coins, waiting for your beck and call. Basketbull Slots is available at many online casinos to be played either online or downloaded to your personal computer or smart device.
A Magical Type Of Panda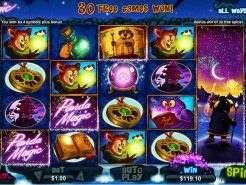 Real Time Gaming works its charm once more with Panda Magic Slots, a high class, five reel game that comes with more than a 1,000 ways to get your win. As the name suggests, the game follows the exploits of a magical panda, complete with a magic wand. As the title suggests, magic is a foot here. You stand to gain anywhere from 20 to 30 free spins if cast the right spell and get copious amounts of scatters on the reel. Once more, the panda is the main attraction. During regular game play, he serves as the main wild, meaning he will double winning combinations. While playing in free spins, the Panda will serve as a special wild, leading you to even more and more magical wins.
Feel free to spin the reels on your own, or let the magical hands of fate take their course through auto play mode. Every time you win, the reels will animate to celebrate your feat. There is no progressive jackpot to be won, but that doesn't mean you can't win some nice coins, especially when you the right amount of scatters on the pay line.